2020 Halmann Vella Calendar
Looking back on what we did in 2019 is our special way to be looking forward to 2020. The new Halmann Vella calendar is now available in our showroom, featuring our most beloved projects from this year!
The cover represents out top mediums, marble, quartz, engineered stone, granite, patterned tiles, quartzite, ceramic and engineered wood. This is represented by a silver block in the most common patterns used.
We started the calendar with the outstanding 3 Herons suites Rosselli – AX Privilege Hotel, the first 5 start Hotel in the capital city – Valletta for the month of January.  Their colorful marble carpets represent a modern take on the traditional cement tiles.  Materials used are: Rosso Alicante, Verde Antigua, Crema Marfil, Verde Guatemala, Nero Marquina, Bianco Carrara and Crema Valencia Marble. Designed by Forward Architects.
For February, we opted for a private residence. When volumes are kept minimalist, patterns and colour make all the difference. To make this stunning home's living room the centre of family time, we sourced Blue Stone marble, turned it into a show-stopping fireplace and took care of its installation.
For April we chose global advisory firm BDO Malta's headquarters'. We paved the floor with statement-making Colorado Gold Marble. Every piece of marble is unique, and it compliments its book-match pattern across all flooring. We love the dynamic feel it gives this space! Architects: ME Architects Malta.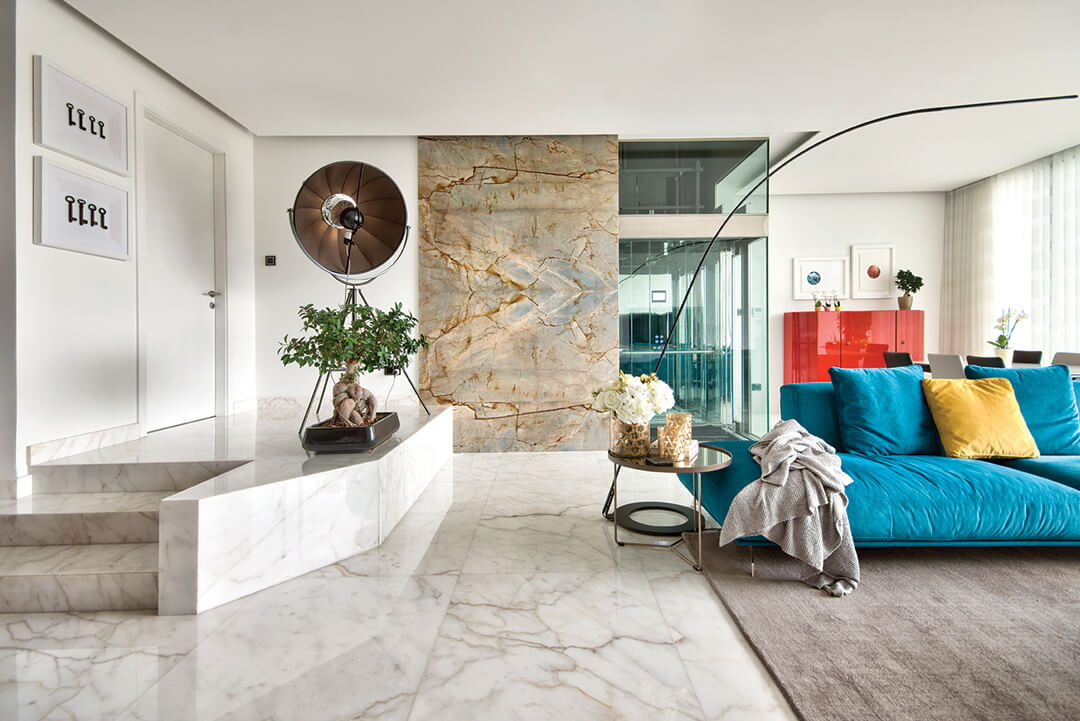 A neutral and clean living area featuring Bora White flooring. The striking Spiderman Classico marble feature wall comes almost a surprise… albeit a pleasant one. We love the stylistic innovation of private residence featured for the month of June.
Beefbar launched their latest destination in Malta in the summer of 2019. Situated at the edge of St. Paul's Bay, this project promised to take Malta's fine dining scene to a whole new level of understated luxury by the sea. We featured the Natural Stone Crazy Paving used for the beautiful pool area for the month of July, providing a quintessential Mediterranean feel but with a modern and contemporary twist. Designed by Emil Humbert & Christophe Poyet: Humbert & Poyet Architects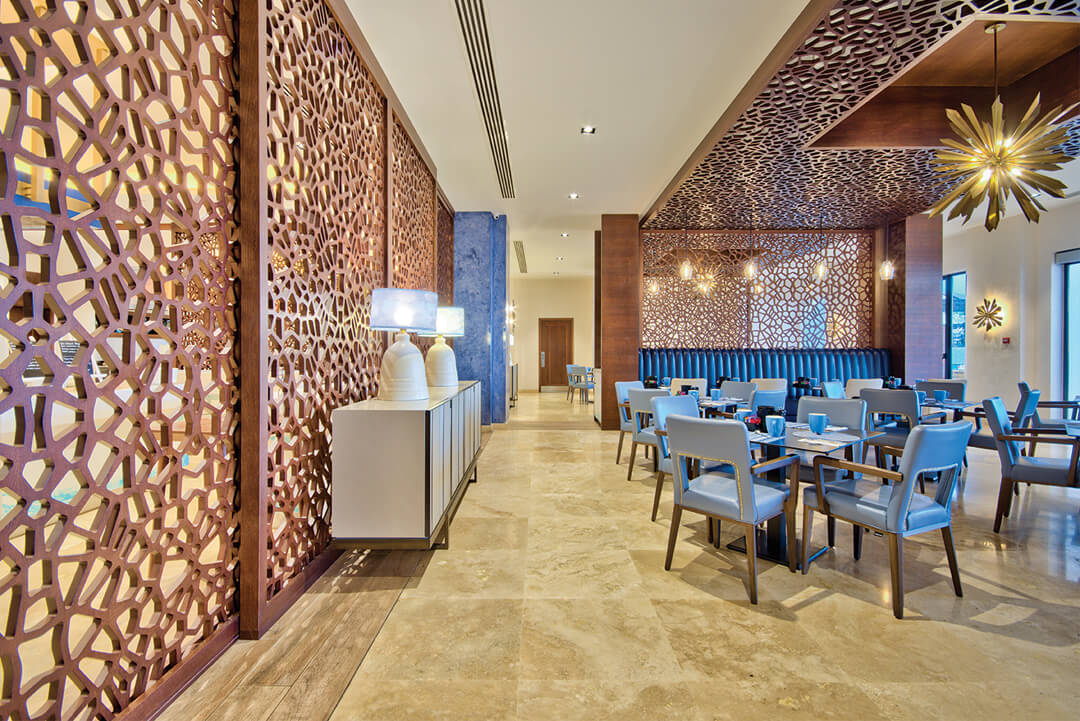 The Westin Dragonara Resort Malta needs no introduction. For its recent renovation, we provided studio Lynne Hunt London with different materials to ensure each space had a distinct, welcoming feel: from parquet looking tiles and Saturno flooring to patterned Marca Corona Forme tiles and a stunning glass mosaic wall in the kitchen area. We featured this magnificent project for the month of August.
The bathroom – the ultimate relaxation room. Bora White & Rainforest Brown where used for this elegent bathroom in a private residence featured for the month of September.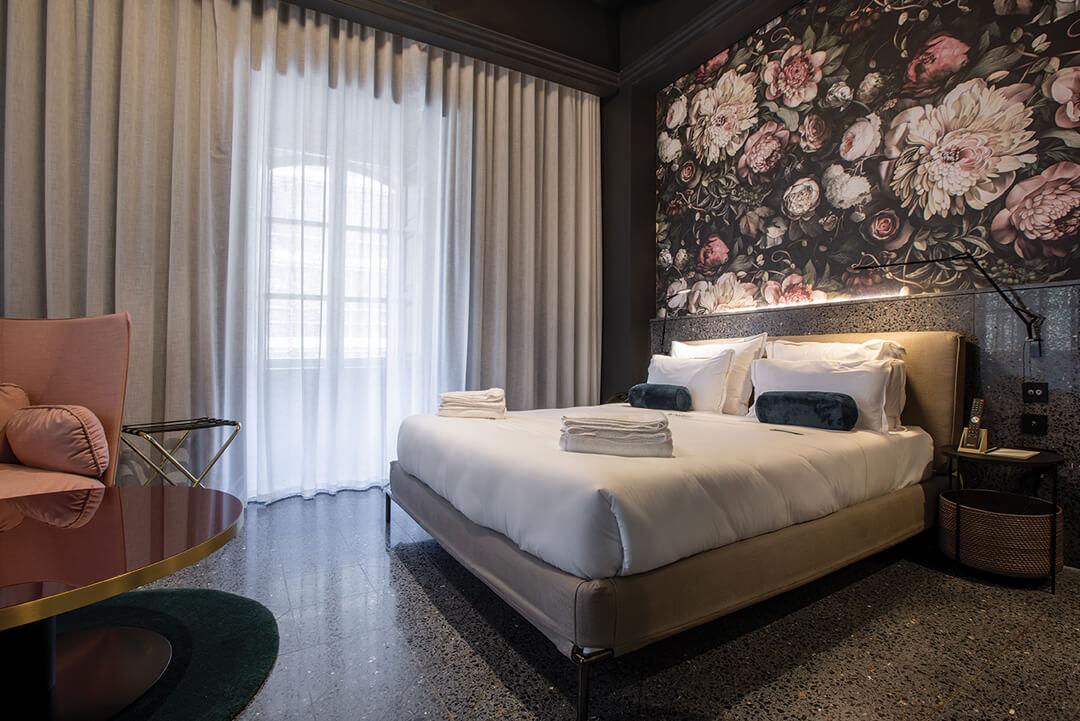 Rosselli – AX Privilege Hotel – Valletta, is a hub of fresh architectural details, exposing guests to the perfect combination of new versus old. Such as the use of made to measure Nero Portoro terrazzo slabs flooring with patterned brass inserts in the Maruzzo and Alusietta suites. This was the perfect combination for October's choice. Designed by Forward Architects.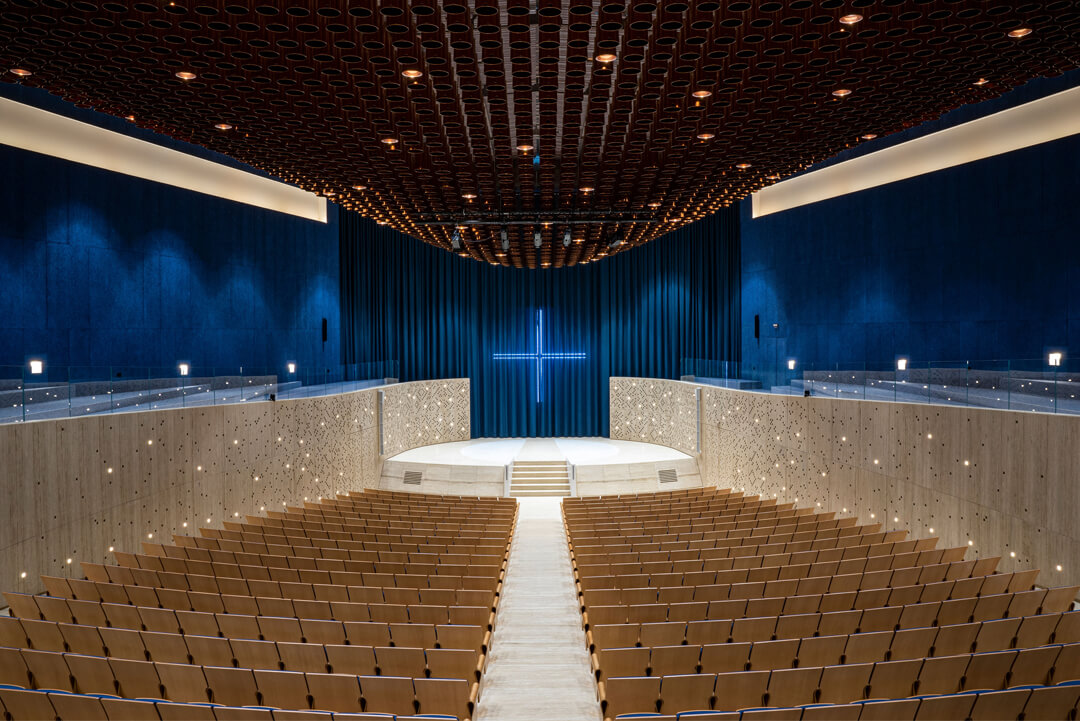 The M.U.S.E.U.M Auditorium is a fascinating project, realised in 2019. It took us approximately a year to detail, fabricate and install tonnes of travertine to furnish this masterpiece according to the Clients' and Architects' vision. This project was featured on the month of November. The space was designed by the architects at Atelier Maison.
Get your copy in our showroom by the end of year for your daily dose of inspiration.