Set in Stone
Halmann Vella is a premium supplier of natural stone which can be customised for any residential or commercial building project. Our stones are hand – picked from around the world to ensure true quality and the sourcing of the most beautiful materials and alluring stones.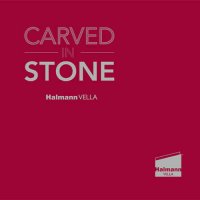 Company Profile
Started in 1954 by Vincenzo Vella and his brother, Halmann Vella Ltd has evolved from a purely local manufacturing concern to a multi-layered product and service-oriented company, offering its services and products around the globe meeting the requirements of both Maltese and international clients.
Cladding Solutions
Cladding is generally defined as panels that are individually supported and restrained allowing construction to take place with open joints. Differential movement is accommodated in each joint, which negates the need for larger compression and expansion joints. Open jointed systems provide a ventilated cavity and require waterproof rainscreen insulation systems. Ventilated cavities assist in achieving the demands of the new European energy saving requirements.
Timeline Valletta City Gate Project
The Valletta City Gate required the largest stone elements on the project. These elements had to be fabricated to the extreme tolerances required for the project to ensure that all the complex 3D monolithic elements, mainly L-pieces forming the corners, are lined up.