Revamp your kitchen with these small, quick and budget friendly makeovers
Time for a kitchen revamp? Kitchen renovations are often at the top of the to do lists when it comes to home renovations. This comes at no surprise, given that the kitchen is often regarded to be the core of the home.
The following suggestions will help you to freshen up the look of your kitchen without breaking the bank.
1. Re-do the backsplash
A new quartz or natural stone backsplash or playful wall tiles can immediately revamp and uplift your kitchen whilst also adding a statement in the room, in a cost effective manner.
Material: Silestone Classic Calacatta
2. Revive your worktops
Changing the kitchen's worktops, although not the cheapest of these options still can be done at a fraction of the price required for a full kitchen renovation… whilst still having a massive impact on the aesthetic of the room. We are loving the recent additions of composite stone by Dekton, Silestone and Infinity Surfaces which add the look and feel of natural stone combined with the strength and durability of engineered stone.
Material: Carrara Marble
3. Update the cabinets
Why not give your cabinets a fresh coating of paint? Given that the right tools are used, this is probably the easiest and fastest way to update your kitchen and give it a new personality. You can also replace your existing cupboard and drawer fronts to completely change the look of your kitchen. Nowadays there are a number of materials that one can go for such as veneered wood or laminates.
Material: Dekton Aura Photo by Jessica Isaac
4. Add open shelving
Open shelving are a great decorative element in the kitchen. These can be used to add some greenery using plants or a small herb collection or to show off an elegant collection of glasses and plates. It's a good idea to know what you will be placing on these shelves before installing them so that you can preplant their size, height and weight that they can bear. Open shelving does not need to match the rest of your kitchen. A contrast will work wonders and make the space one of a kind. For instance if you have a sleek and glossy kitchen, wood shelving will add warmth to the space.
5. Update the seating
Updating the kitchen chairs and stools with a contrasting colour is a delightful way to makeover a room. If you have light coloured cabinets, opt for darker shades when it comes to the seating and vice versa. By making your seating pop out, you will divert attention away from cabinets which are not as on trend as you'd like them to be.
We hope that the above helps you realise that you do not need to spend thousands to update your kitchen into the gorgeous and improved kitchen that you deserve. Start with your favourite suggestion from the above and watch your favourite room transform right before your eyes.
Material: Dekton Kadum Photo by Valerie Wilcox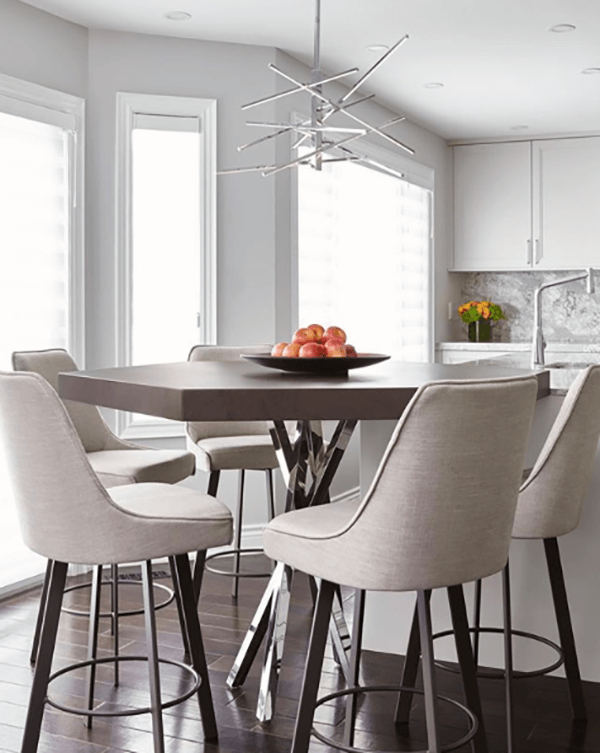 6. Keep your kitchen tidy
It's amazing what a difference a good decluttering makes…and it is definitely the option that will go most easy on your finances. Start off by cleaning one cupboard at a time.
7. Update the tapware, appliances and play with colour
Upgrading the tap ware and appliances is a very small step one can make that will dramatically improve the room. Colours can also have a very transformative effect on spaces. Simply changing the paint colours of your walls will make a big difference.