Top Trends for 2019
Top trend for Kitchen tops –
Quartz and Engineered Stone
Quartz and engineered stone have been the most popular kitchen countertop material for a number of years, so this is not exactly a new trend. Yet, there seems to be no end in sight to this surface's popularity! So what are the features that have kept quartz and engineered stone as the most frequently requested countertop material? Quartz is a more cost effective option when compared to natural stone such as marble and offers benefits such as heat resistance, non-porous (therefore stains and bacteria cannot penetrate the material).
Quartz requires virtually zero upkeep and can just be cleaned with soapy water or a gentle cleaning scrub for any surface stains. It is available in a wide range of patterns and colours, with the latest ranges perfectly reproducing the look of real natural stone.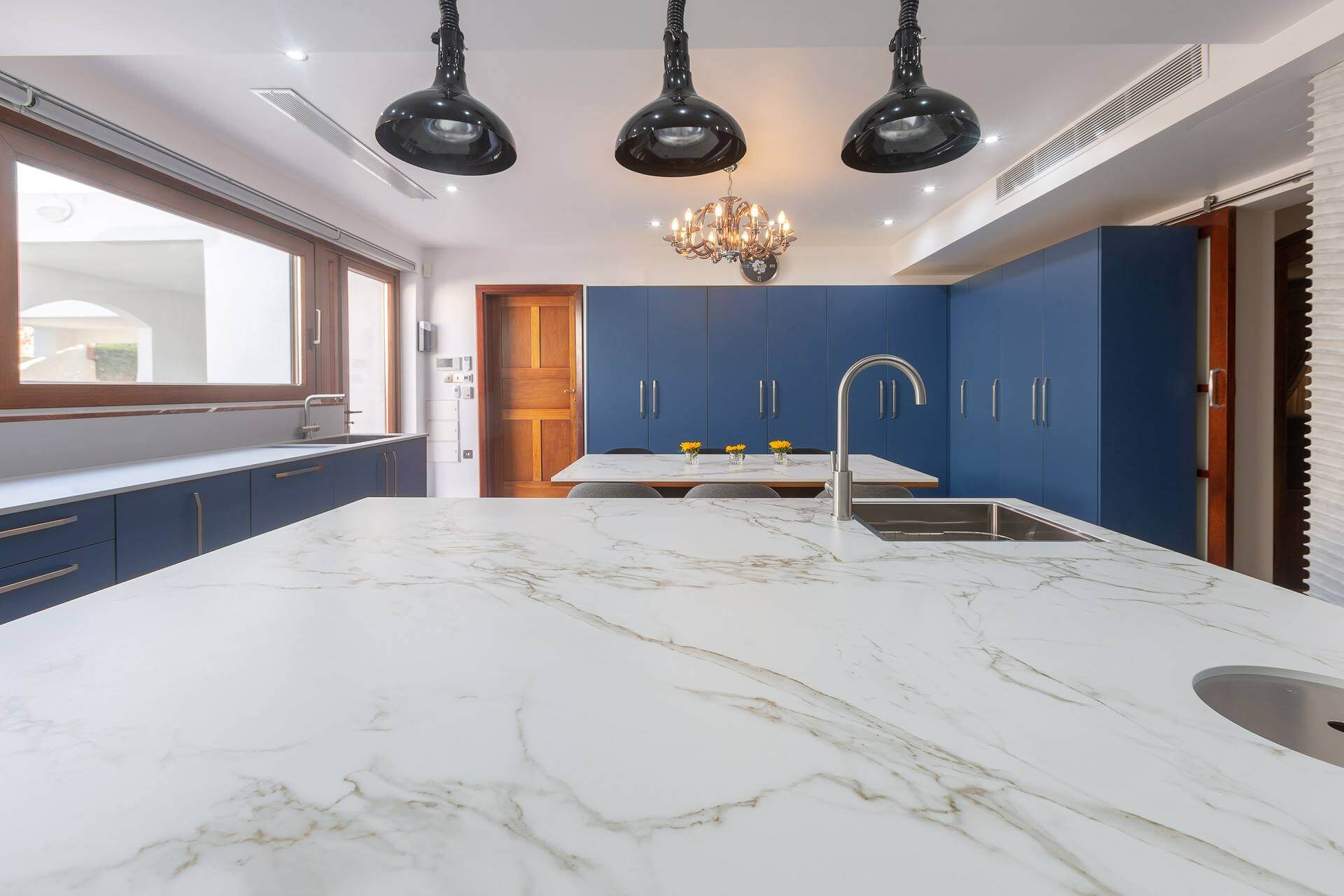 Top Trend for Fireplaces –
Outdoor fireplaces
Whilst fireplaces are normally associated with the indoors, international trend reports are seeing an increasing interest in outdoor fireplaces. The more we hear about the trend, the more it is starting to make perfect sense to us. If you're blessed with a great outdoor space in your home, an outdoor fireplace will enable you to enjoy your outdoor space on cooler days and you'd definitely be adding a point of interest in your home.  And if it works in colder climates, it will definitely work in our comparatively milder colder seasons. Natural stone is an ideal material for outdoor fireplaces. Dekton is also another great option.  Both are naturally fire resistant, versatile and can also be used to add outdoor cooking options such as bbq areas and a pizza oven.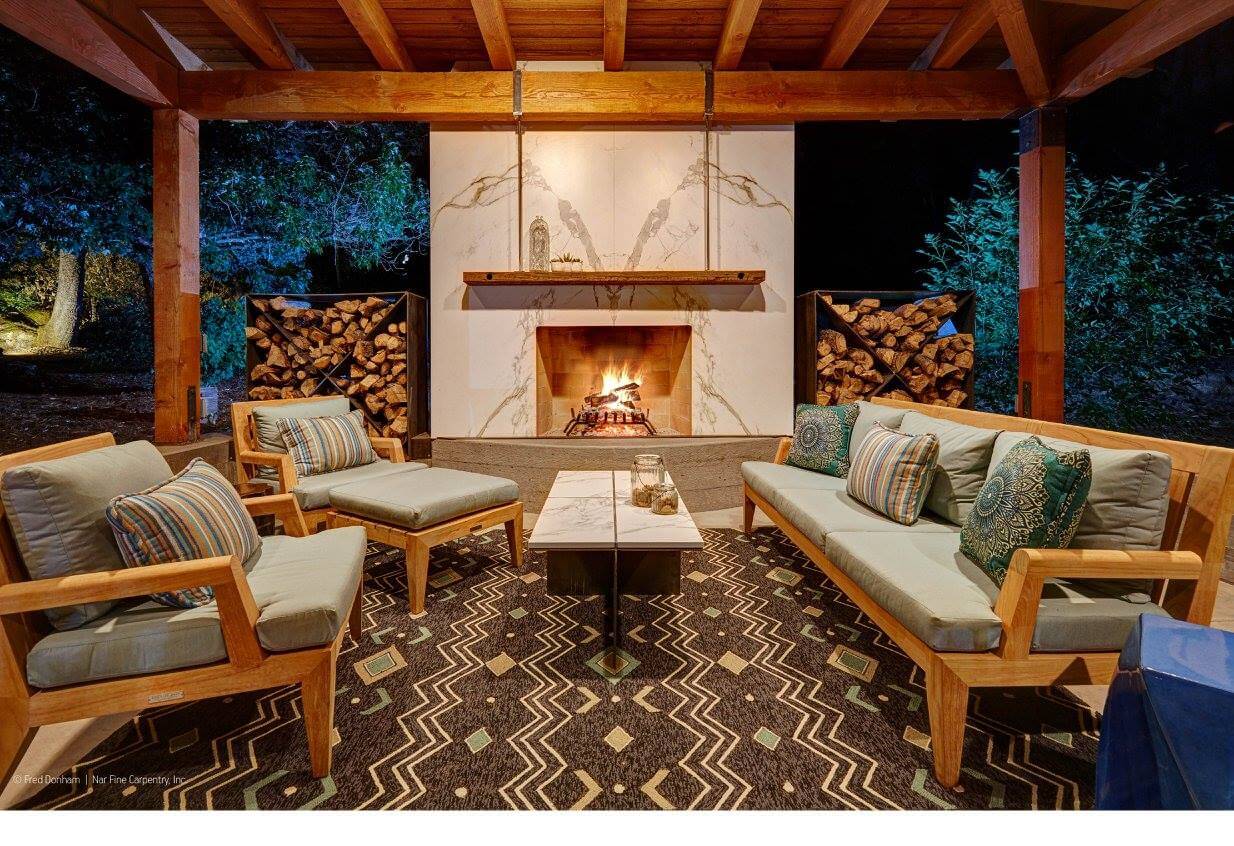 Top Trend for Indoor flooring –
Textured wood look floor
Wood looking flooring, although a lasting classic, has recently increased in popularity.
The latest trend in wood look flooring is texture as we are seeing more and more launches of product ranges featuring distressed look wood flooring highlighting the natural grain of the wood, in 2019. Distressed look flooring is ideal to create the organic look that is very fashionable at the moment.
Flooring is a big investment in a home. It is basically the basis of a home's design. Therefore it is very important to go for a material that is not only beautiful and on trend but also something that will last the test of time. Wood look flooring adds character and a touch of rustic elegance to a space. In the past, wood flooring was not easily accessible. It is not ideal for areas which see a lot of moisture such as bathrooms and kitchens, it is not ideal for families with young children and pets,  and to top it all it is quite expensive.
However, the latest developments in the ceramic industry has lead to the launch of collections that give very convincing wood looks, with the added benefits of durability and low maintenance associated with porcelain and ceramic tiles. The latest ranges are so realistic that most people cannot tell that they are real. Porcelain flooring also guarantees that whilst the floor looks raw, it is smooth to the touch, making it a comfortable surface to walk on.
As the production of ceramic becomes more sustainable many home owners are finding engineered wood flooring to be a more eco friendly option. Therefore, asked whether this is a trend that will last, we reply without any hesitation – a definite Yes.
Top Trend for Outdoor flooring –
Porcelain pavers
In recent years, we have heard a lot about bringing the outside in. But what about taking the inside out and creating outdoor spaces that feel as pulled together and cosy as our indoor spaces, creating a cohesive design for both spaces?
Outdoor porcelain pavers are usually similar to indoor porcelain tiles, only thicker and more durable and weather and fade resistant. Porcelain pavers are even more enduring than natural stone, are easy to maintain and still give a classy look to the outdoor space. Compared to materials such as concrete, pavers create a grander aesthetic.
Pavers are ideal for a number of uses such as pool decks, walkways and terraces and patios. Lighter coloured porcelain is particularly ideal for outdoor spaces because it remains cooler to the touch when compared to other surfaces such as concrete and some darker natural stone, when it is exposed to the sun.
With such a beautiful and practical outdoor space, instead of keeping up with the Joneses, the Joneses would have to keep up with you!
Top Trend for Swimming Pools –
Tanning Shelves
Tanning shelves are basically a wide ledge with around a foot of water in depth. This trend is ideal for both young and old. Whilst young children can safely splash around under the supervision of an adult, the shallow water also means that the water is of a slightly warmer temperature, ideal to for adults who just want to sit in the water and relax.  In fact some tanning shelves also accommodate a couple of lounge chairs. Tanning shelves are usually placed either at one end of the pool or all around it.
Top Trend for Bathrooms –
Statement Marble
Who doesn't love a classic bathroom? It is always fashionable to have something that will work for years to come. Marble will always be a classic go-to look, making for a stunning focal point whether it is used on the countertops, wall or the floor.  If you really want to make a statement, you can also go for a full marble slab wall cladding – avoiding unsightly grouting and adding a real wow factor to the room. Real marble is versatile and durable and plays with light in a way that few materials can compare. It also comes in finishes that make it non slip, so can also be used for flooring. One can also opt for marble look ceramic tiles, which mimic the look of marble without the maintenance required.
Neutral shades such as cream, beige and grey have been popular for quite a number of years, and it seems that this trend will still hold a strong ground in 2019.