Natural Stone Purchasing Guide
Natural stone is a very versatile material, suitable to be used in many places throughout a home or commercial building. Selecting the right natural stone to complement your project can be a mind-boggling task. On one end, this is a personal decision and is highly influenced by one's tastes. However, another aspect to this decision is more practical, with the question that springs to mind most often being: what should one look for when selecting natural stone for a project?
Natural stone is a timeless investment so selecting the right stone for your project will guarantee that you will enjoy its beauty for many years to come.
The following article outlines some of the most popular natural stone materials which can be utilized in your next home redecorating project.
MARBLE
Marble, a metamorphic rock, is undoubtedly an exquisite material. It has been used for centuries by artists and architects to make statements that stand the test of time. No wonder it is still a very popular material in modern buildings. Marble will give any space a lasting allure. Marble is a very versatile material and no one piece is like any other, with its variations in pattern, veining and shades, so every space which is embellished with marble is for sure unique. How do you know whether a piece of marble is of the best quality? The best slabs usually have soft veining and the colour is uniform. Marble is quite a high maintenance material though. It needs to be sealed regularly with a good quality sealer.  It is easily stained, since it is an absorbent material and can also etch or crack.
Applications: Flooring, bathroom, stairs, cladding
GRANITE
It's hard to beat the timelessness and practicality of granite. Granite is very durable given to the fact that its internal structure is made up of interlocking crystals. It is heat resistant and won't scratch very easily, showing hardly any signs of wear and tear after years of use. Its texture is quite grainy, hence its name: granite. When it comes to colour selection, granite allows for many design options as the variety is quite expansive, ranging from intense browns, ashy greys and ebony blacks to speckled whites, bright reds, rosy pinks and vivid blues. Being such a string material, granite can be cut in large slabs.
Applications: Flooring, Kitchen tops, Cladding, stairs
Travertine
Travertine has been used in buildings since ancient times. In fact, the Colosseum in Rome is constructed mainly of travertine and to date remains the largest building in the world built mostly of travertine. Travertine is distinguished by a number of holes and slits which seem to be carved into its surface, however it can also be polished for a glossy and lustrous finish.   Its creamy neutral colouring (which ranges from beiges to greys and reds) is guaranteed to give any space a classical appeal, whilst adding to its value, thus making for a great investment. Travertine goes well with both traditional and rustic home décor as well as with sophisticated modern or contemporary spaces and is one of the best options for exterior use. Whilst being a very durable and long lasting material which doesn't crack easily one must keep in mind that it is also a porous material, thus it may be prone to staining especially if in contact with acidic matter such as lemon juice. Because of this, travertine is not recommended to be used in kitchens. With proper care, one can enjoy the beauty of this material for a long number of years.  Travertine is a cheaper and similar alternative to marble and granite, whilst still equally sleek and glamorous.
Applications: Interior and Exterior flooring, wall cladding, bathrooms, swimming pools
Onyx
Onyx represents pure luxury and extravagance. Part of the marble family, it stands out because of its translucent quality.  Incorporating onyx in your project means that you have a unique piece of art signed by mother nature. Talk about a dramatic statement! It comes in a wide range of colours….from balmy to bold, contrasting colours and delicate patterns….always a feast to the senses. Of course, onyx comes with a price tag to match. It is also a stone which requires considerable care so it's best suited for low traffic areas where it can be seen and admired, but not touched!
Applications: Interior decoration, wall features
Maltese Hardstone
 In recent years, we have seen an increase in demand for Maltese hardstone, locally known as zonqor. This could be driven by the use of this stone in some of Malta's latest developments most notably Renzo Piano's City gate, BOV's House of 4 winds as well as Smart City. It is also highly in demand by town house owners, who seek to respect the authenticity of their homes by going for a locally sourced stone which resonates the typical Maltese landscape. This material is absolutely timeless in its simplicity with the warmth of its colour being pleasant to the eye and increases the sense of harmony within the space.
Application: Wall cladding, flooring, exterior flooring, swimming pools
Slate
Slate has a distinctive texture and tends to come in dark hues ranging from sandy browns, to greys, dark greens and bright reds. It is molded of compressed layers of sediments formed under the ocean and a number of minerals such as calcite, quartz and mica.  Incorporating slate in your project means including a piece of nature that took around 400-500 million years to develop. It is also very flexible and well suited to a number of applications. This composition makes it a very strong material and in fact it is highly resistant to scratching, chemicals and fading. Slate is also quite easy to maintain, and can be cleaned regularly with mild detergent.
Application: Wall Cladding, stairs and risers, flooring, fireplace surrounds, swimming pools, kitchen tops.
Lava stone
As the name suggests, lavastone is made from volcanic rock which makes it a highly resistant and durable stone. In fact, it is non porous, will not harbor bacteria, not easily scratched or stained and it is heat, shock and UV resistant.  This surprisingly smooth surface can be a gorgeous addition to any home or commercial project. In addition, lavastone is a sustainable and environmentally friendly material. Another benefit is that it is relatively maintenance free and does not require sealing nor cleaning with specialized cleansers.
Application: Various use indoor and outdoor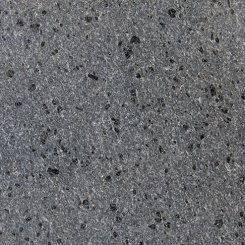 Limestone
Attractive limestone surfaces are an ideal way to achieve the natural "bringing the outdoors in" trend that is so on trend at the moment. This is mostly due to the material's matte texture and soft colour. Limestone requires a substantial amount of maintenance, though. it is also easily scratched and very porous, therefore it is easy to stain. Most homeowners embrace these stains and agree that they add to the character of the stone, merging well with a rustic décor. This of course, is not for everyone, so if one is looking for a sleek finish, limestone should not be the selected stone.
Application: Flooring, cladding, stairs.