What to consider when choosing outdoor tile
The beautiful Maltese climate allows us to spend a lot of time outdoors. Outdoor areas sometimes become extensions of our interior living spaces, therefore it makes sense to treat them with equal importance.
Whether your backyard or terrace need an upgrade or maybe you would like to give a face lift to your poolside deck and bbq area, it is important to know which is the best material to help you enhance your outdoor space and add value to your home. With so many styles to choose from, here are some factors to consider when you need to choose flooring tiles for your next outdoor project depending on the nature of the project, your personal aesthetic preferences, as well as the balance between the decorative and functional aspect.
Colour:
The colours selected depend on the nature of your space. If your outdoor space is well lit, you can afford to go for darker tones. However, if your space is shaded in the morning and not very well lit at night, go for lighter and creamy hues as darker coloured flooring may make the space look dull.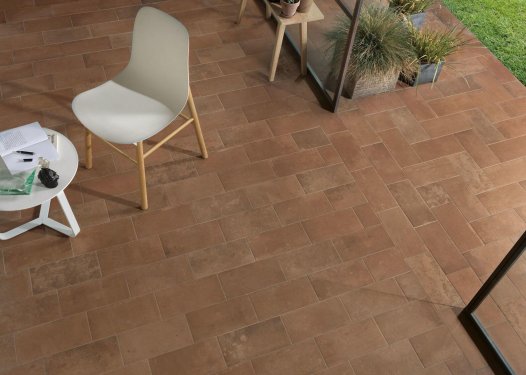 Weather:
Outdoor tiles need to be able to endure the extremities of weather such as heavy rain in winter or the sweltering summer heat.
Material: Keope Alpha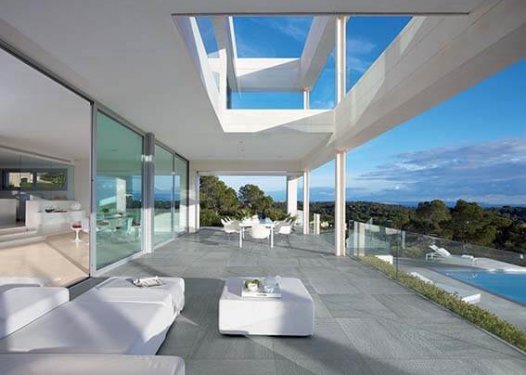 Grip:
Make sure that outdoor flooring is non- slip, especially if it will be utilised in wet areas such as pool decks. Usually, the rougher the surface, the more slip resistant it is.
Material: Keope In&Out Percorsi Extra Pietra di Vals
Foot traffic:
Does your outdoor space experience heavy foot traffic? If so, your best bet is to go for heavy duty tiles.
Material: Marca Corona Stage
Style:
If your home has as modern style go for a sleek and non fussy material. More traditional and rustic homes can opt for materials that have a more raw appearance.
Outdoor flooring options
Natural Stone – With its unique patterns, warm and earthy colours and stunning textures, natural stone is ideal for any outdoor space, capable of blending in with any design and colour scheme. Natural stone can be functional as well as appealing to the eye.
The following are some popular natural stones for outdoor use:
Travertine
Limestone
Marble
Slate
Hardstone
Granite
Travertine: Travertine is a porous material with naturally-occurring holes that may remain unfilled or be factory-filled. It is one of the strongest outdoor materials. Just look at some of the ancient buildings of Rome which are still standing today, such as the Coliseum, a testament of Travertine's strength.  Travertine is easy to clean and maintain and is ideally cleaned using neutral cleaning solutions and water.
Limestone: Limestone is a beautiful and durable stone. One of the best things about using limestone for outdoor spaces is the fact that, since the material has a light colour, it reflects sunrays. Therefore the surface stays cool and is ideal for walking on without burning your feet on a sunny day. Avoid the smooth, honed finish as this might become quite slippery and instead opt for a brushed finish.
Marble:  Marble is a very unique option for outdoor flooring. Do not use polished marble outdoors as the surface can become dangerously slippery when wet. Go for other finishes such as antique or bush hammered. Marble tends to be a bit more demanding when it comes to maintenance but if you love the look and if you think you can handle the extra upkeep, you do not have to think twice about having it in your outdoor space.
Slate: Slate will give an outdoor area a very particular look, with its dark and deep hues ranging from dark black, to grey, green and rusts. Whilst the material is not porous, care should be taken if used in areas where people usually walk barefooted. Since it is quite dark, it gets really hot in Summer and it is very uncomfortable to walk on.
Hardstone: Hardstone is a very durable stone that can be easily used for external areas. This distinctive material is strengthened by nature to survive a number of extreme climates , making it ideal for outdoor flooring. Virtually non-slip, coral stone also absorbs only a minimum amount of heat and is easily maintained.
Granite: Granite is one of the hardest natural stones, which is why most opt for this stone when looking for a consistent look that can stand the test of time. Granite is a nonporous material and can take heavy foot traffic. Being such a durable material, granite can be cut in large formats for those who want to have as less seams as possible
Ceramic/Porcelain flooring
Maintenance: Looking for a low maintenance, hassle free surface? Your best bet is ceramic/porcelain flooring. Ceramic flooring is one of the best performing outdoor flooring materials.
Good quality tiles can be totally nonabsorbent, nonslip and very practical, being practically maintenance-free. One can find various textures, colours and formats. Nowadays, one can also find some good natural stone/wood lookalikes.