Design Trends 2017
Now that we are already in the fourth month of 2017 (time flies doesn't it?) the most popular trends of the year are already emerging. Here we list the top trends we've seen so far.
Quartz and Engineered Stone:
The year 2016 was definitely the year of quartz with sales for this material, especially for kitchen tops surpassing that of other popular materials such as granite. It seems that this trend will carry on in 2017. One of the reasons for this material's increasing popularity is the fact that it is a durable material which is not porous, and therefore it is resistant to stains. Engineered stone such as Dekton and Silestone is also resistant to heat as well as to UV rays. Apart from being a very functional material, it is also aesthetically attractive. It is available in a wide range of colours some of which perfectly mimic the appearance of natural stone such as marble.
Halmann Vella is the local supplier of Dekton and Silestone.
Patterned Tiles:
Patterned tiles made a comeback in recent years but their popularity is not waning. From colourful patterns to more monochromatic designs, more and more clients are opting to make a statement by incorporating patterned tiles in their home design. Patterned tiles are ideal to add character to a space. Nowadays, apart from traditional designs one can also find more contemporary and geometric patterns.
The use of wood in the bathroom:
Most wood is not water resistant therefore many are hesitant towards utilizing it in their bathroom design. However recent developments in the industry of ceramic flooring has lead to the introduction of tiles with a wood like texture and appearance. Therefore one can get the natural, spa-like atmosphere at home, without having to worry about the maintenance of wood.
Marble is not just for covering walls and floors:
Marble has always been the go to material for those wanting to inject a luxurious ambience in any space. Marble has traditionally been used to clad walls and as flooring. Recently we've started seeing the use of marble in other forms such as marble bath tubs, wash hand basins and coffee tables.
Bringing nature inside the home:
We lead fast paced, urban lives, which often leave us longing for that relaxing ambience which is often found in natural environments. Therefore home décor is increasingly bringing the beauty of nature to household interiors. This trend is rustic yet minimalistic, creating homey and informal spaces. Colour schemes vary from delicate neutrals such as sandy colours to more vibrant hues such as orange and yellow. Popular surfacing materials which go very well with this style include Maltese hardstone and other natural stone such as marble and travertine. Needless to say, some greenery goes a long way. Add a nice plant to make your space more attractive.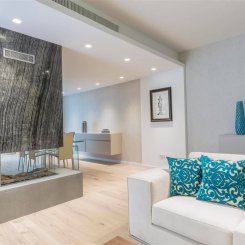 A modern and contemporary style:
Modern and contemporary styles  with clean lines and simple designs remain popular this year. This décor style has a tendency to be more 'cold' therefore it is advisable to complement it with occasional traditional elements or warmer colours such as beige and brown. These colours can easily be incorporated through the surfacing materials such as flooring, in a way that the room décor is timeless and remains relevant even when some time has gone by.
White in the kitchen:
White will once more be a popular colour choice in the kitchen. A recent research carried out amongst designers of the American National Kitchens and Bathrooms Association concluded that 67% of clients are currently opting for a white kitchen. The preference for white in the kitchen is reflected not just in the cabinet colours but also in the appliances as well as in the counter tops and splash back. No doubt this trend will continue to increase the popularity of quartz in the kitchen.
Black is back:
In recent years, trends leaned more towards light colours. However, the colour black is becoming more prominent, especially in kitchen tops, flooring as well as wall cladding.
Green:
The colour "Greenery" was named the colour of the year 2017 by Pantone.  This vibrant colour will more likely be utilised in soft furnishings such as curtains and cushions. More adventurous characters might incorporate it in their kitchen top, utilizing colours such as Silestone Verde Fun, which would add a touch of playfulness to an all white kitchen.
Teal:
Teal is ideal to add freshness and colour to a room, especially in bathrooms. It is also ideal as a feature wall in a bathroom, utilized with other neutral colours.