Cersaie trends 2018
As 2018 is fast approaching, here is a roundup of the Top 10 trends in porcelain, ceramic and engineered stone as seen in the latest editions of Cersaie and Marmomacc.
Some trends have been carried on from recent years such as geometric patterns and 3d tile. Other recent trends have been reproposed in a different manner such as wood effect tiles which are now more raw, whilst the industrial trend is now more sleek and refined featuring metallic shades of grey. A new trend which took the industry fairs by storm this year is the return of terrazzo tile. The usual suspects – and timeless classics, such as natural stone, beige and white also featured widely in this year's fair.
  1. The wood effect: Wood adds warmth, charm and prestige to a room. Wood look tiles have been trending in recent years, however the new collections are more raw and include added elements of authenticity such as marks, scratches, knots and veins, some even with holes and a weather worn appearance and texture to make it look aged…mixing an amazingly realistic wood look with the durability of porcelain and ceramic. The wood effect was proposed by Marca Corona in the Bleecker range and by  Keope with the Logos range.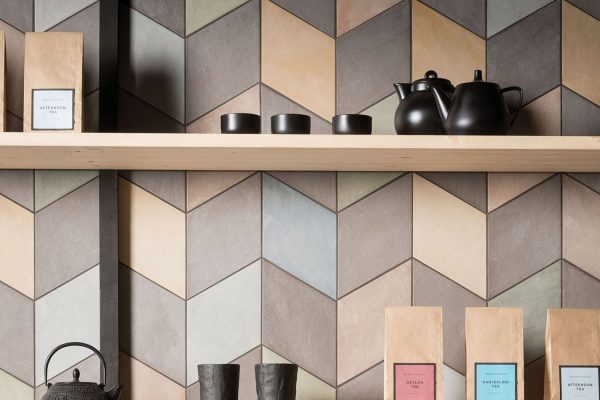 2. Geometric Patterns: Geometric patterns remain right on trend with bold, geometric patterns that are sure to make a statement. Geometric patterns were proposed by Marca Corona in the newly launched ranges Chalk and Maiolica.
   3. Natural stone: Natural stone is an enduring classic in home design. Whilst undeniably unique and beautiful, once laid, natural stone does require some maintenance such as sealing. This is why homeowners who are concerned with the added expense of maintenance but still love the look of natural stone, turn to ceramic or porcelain tiles which mimic natural stone's appearance with various textures and marble vein markings. New ranges such as Keope Suite and KEOPE Elements enable end users to create spaces of great value, with little maintenance.
4. Beige and Taupe: Neutral and earthy tones have always been very popular. This year was no exception with a  beige and taupe colour palette featuring strongly at this year's edition of Cersaie and Marmomacc. This trend was popular both when it comes to ceramic and engineered stone as well as natural stone such as marble.  Beige and taupe give bathrooms a spa-like feel which has been greatly sought after recently and adorns any space with an elegant allure.
5. The Industrial trend Smoky stone looks such as Neolith's Magma and Krater are typical examples of the Industrial trend. Grey metallics, a concrete look and oxidised finishes were also recurrent themes throughout the industry fairs.  The minimalistic industrial style is maturing into a more glamorous look and feel whilst maintaining subtle raw and rough characteristics.  The new industrial materials are sure to inspire architects, designers and homeowners alike. Other ranges proposing this trend include: Marca Corona Type and Chalk, Dekton Nilium, Radium and Orix and Keope Pulse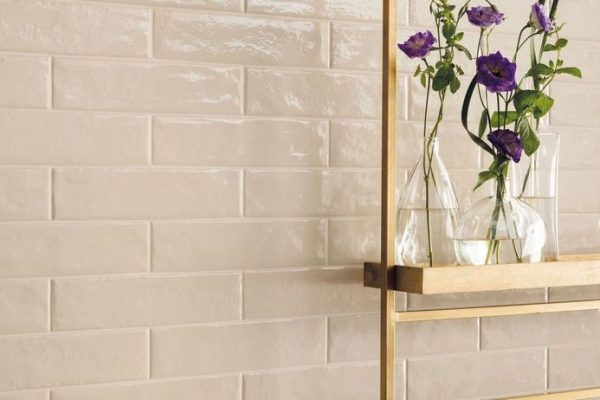 6. 3d Lovers of texture will love the 3d tile trend which continues from recent years. 3D Ceramic tiles enable interesting plays between lights and shadows adding an interesting contemporary touch which will surely make an impact. The 3d trend has been proposed by Marca Corona in the ranges Type and Maiolica as well as Keope with the range Elements Design.
 7. Elements of Silver: The silver tile recalls the concrete trend which has grown in popularity in recent years, with a metallic finish which gives off an added air of luxury. Silver is a metallic version of a popular cool neutral, grey, adding another dimension to a space whilst reflecting light, without overpowering a room.
    8. Terrazzo Terrazzo flooring is often associated with mid 20th century design due to its popularity at the time. However, this year terrazzo made an unexpected comeback during the 2017 Marmomacc and Cersaie with major players launching their terrazzo inspired ranges such as Neolith with their new range Retrostone. The new terrazzo proposals are glossy with mirror-like glazed surfaces, making the new terrazzo a surfacing product that is not just for flooring, but one that can also be applied to other spaces such as countertops, bathrooms and outdoor cladding.
9. Grey is still a trending colour, this year with a focus on minimalistic and sophisticated elegance. This colour is one that is sure to remain the go-to for modern designers in the coming years.
  10. White tile is the ultimate choice for a timeless look. Despite being considered to be cold by some, one cannot deny its ability to add elegance to any space. White can also be incorporated within the industrial look as well, with ranges such as Marca Corona Chalk recalling  the look and feel of unplastered and re-painted stone walls and Dekton Nilium mixing white and silver to portray the natural process of oxidation.